U.S. House Needs More Bipartisanship
Nicholas Johnson
The Gazette, Nov. 22, 2022, p. A6
Even dreams that never come true sometimes lead to proposals that do. So may it be with my dream for selecting speakers of the U.S. House of Representatives.
Mike Huckabee said when he inspected planes before flying: "I'm not just interested in the left wing or the right wing, I'd kind of like for both of them to be there."
Well, so would I. And after the last election, an increasing number of Republicans and Democrats think so as well. By definition, a successful democracy requires more than one ruling political party. It requires bipartisanship, time and effort at legislating, with compatibility, mutual respect, and willingness to compromise.
Unfortunately, it is the U.S. House of Representatives' traditions and norms that have created the battlefield. The Constitution imposes no such constraints. Article I, Section 2, merely states, "The House … shall choose their Speaker …."
The Speaker need not be a majority party member – nor even a member of the House (though no outsiders have been elected, some received votes).
Republicans need to rebuild their party. Democrats want Republicans they can work with. Voters are disgusted, asking both parties to start helping working people, not just major donors.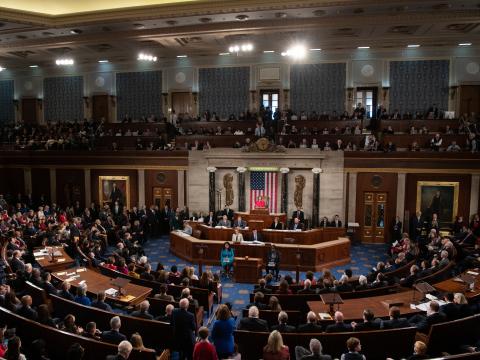 The opportunity before the House is the selection of their next Speaker. [Photo credit/source: U.S. House of Representatives.]
Yes, I know the House Republicans have pre-selected Minority Leader Kevin McCarthy. But he may not have the support of a House majority when the vote is taken Jan. 3.
Rather than leave McCarthy with the need to yield power to his no-compromises, election-denying, party-without-a-platform, MAGA, extremist, insurrectionist House members, how about the ultimate bipartisanship?
Each party can have its leadership. And tradition would dictate a Speaker from the House majority party. But shouldn't the Speaker be the choice of both major parties?
There is precedent. In 1910, dissatisfied Republicans joined Democrats in stripping Speaker Joseph Cannon of some powers. In 1997, Republican Speaker Newt Gingrich feared dissenting Republicans would vote with Democrats, making Democrat Dick Gephardt Speaker. In Nancy Pelosi's 2021 election as Speaker, two votes went to neither her nor McCarthy, and three members voted "present."
On a more positive note, since 2017 the House "Problem Solvers Caucus," with 58 members (29 from each party), has been successfully seeking to foster bipartisan cooperation on key policy issues.
Wouldn't it be worth a similar try to build a majority from both parties that could agree on a Republican Speaker who would serve all House Members? A Speaker indebted only to them, with no need for concessions to those Members more interested in winning a war with the "enemy" party than legislating for the American people.
Like Huckabee's airplane, the House needs wise adults on left and right. With or without a bipartisan speaker, hopefully this dream of one may inspire other proposals for converting the current mudball fight into a legislative body of problem solvers worthy of the name — and the U.S. House.
Nicholas Johnson is the author of "Columns of Democracy." mailbox@nicholasjohnson.org
SOURCES
Picking presidents
. "It's Huckabee; My Republican Pick: Governor Mike Huckabee," July 24, 2007, https://fromdc2iowa.blogspot.com/2007/07/its-huckabee.html
Speaker of the House:
Constitution
. "The House of Representatives shall chuse their Speaker and other Officers; and shall have the sole Power of Impeachment." U.S. Constitution, Art. I, Sec. 2, https://constitution.congress.gov/constitution/.
"Speaker of the United States House of Representatives," Wikipedia.org, https://en.wikipedia.org/wiki/Speaker_of_the_United_States_House_of_Representatives ("The most recent election for House speaker took place January 3, 2021, on the opening day of the 117th United States Congress, two months after the 2020 House elections in which the Democrats won a majority of the seats. Incumbent speaker, Democrat Nancy Pelosi, secured a narrow majority of the 427 votes cast and was elected to a fourth (second consecutive) term. She received 216 votes to Republican Kevin McCarthy's 209 votes, with two votes going to other persons; also, three representatives answered present when their names were called.[34]" …"In 1997, several Republican congressional leaders tried to force Speaker Newt Gingrich to resign. However, Gingrich refused since that would have required a new election for speaker, which could have led to Democrats along with dissenting Republicans voting for Democrat Dick Gephardt (then minority leader) as speaker." … "non-members have received a few votes in various speaker elections over the past several years.[8] Every person elected speaker, however, has been a member.[7] … As the Constitution does not state the duties of the speaker, the speaker's role has largely been shaped by traditions and customs that evolved over time." ,,, "In 1910, however, Democrats and several dissatisfied Republicans joined together to strip Cannon of many of his powers, including the ability to name committee members and his chairmanship of the Rules Committee.[18]" … "John Boehner was elected speaker when the 112th Congress convened on January 5, 2011, and was subsequently re-elected twice, at the start of the 113th and 114th Congresses. On both of those occasions his remaining in office was threatened by the defection of several members from his own party who chose not to vote for him.[23][24]")
Capitalization
. "'Speaker' an exception," Chicago Manual of Style, https://www.chicagomanualofstyle.org/qanda/data/faq/topics/Capitalization/faq0003.html
House leadership
. McCarthy. John Wagner and Mariana Alfaro, "Republicans engage in full-scale brawl after disappointing midterm elections," The Washington Post, Nov. 15, 2022, https://www.washingtonpost.com/politics/2022/11/15/mccarthy-speaker-house-control-midterms/
Marianna Sotomayor, "As Pelosi backs away, a new generation of Democrats steps forward; Democratic lawmakers both seasoned and new embraced the prospect of a fresh start, while recognizing the massive impact Pelosi has had," Washington Post, Nov. 18, 2022, https://www.washingtonpost.com/politics/2022/11/18/pelosi-backs-away-new-generation-democrats-step-forward/ ("Reps. Hakeem Jeffries (N.Y.), Katherine M. Clark (Mass.) and Pete Aguilar (Calif.) have emerged as the expected leaders …. Jeffries, 52, would break barriers as the first Black person to lead any party in either chamber of Congress. Clark, 58, could become the second woman to serve as minority whip, and Aguilar, 43, would be the second Hispanic lawmaker to chair the caucus if elected this month." "… Kevin McCarthy (R-Calif.), who earned the GOP conference's nomination to be speaker next term …." "Republicans begin to acknowledge that they will have to rely on Democrats to approve must-pass legislation to overcome their razor-thin majority."
Problem solvers
. "Problem Solvers Caucus," https://problemsolverscaucus.house.gov/about
"Problem Solvers Caucus," https://en.wikipedia.org/wiki/Problem_Solvers_Caucus ("The Problem Solvers Caucus is a bipartisan group in the United States House of Representatives that includes members equally divided between Democrats and Republicans, who seek to foster bipartisan cooperation on key policy issues. The group was created in January 2017 as an outgrowth of meetings held by political organization No Labels starting in 2014.[5]." … "Today, the Problem Solvers Caucus is co-chaired by Rep. Josh Gottheimer (D-NJ) and Rep. Brian Fitzpatrick (R-PA), and counts 58 members evenly divided between the parties, who are working to forge bipartisan solutions to America's toughest challenges.[6]")
# # #